Here at 11 on Kajeng, we love to put our walking shoes on and head out into nature for sunrise and sunset walks, and we are so lucky that there are such majestic hikes and walks right on our doorstep.
So here is a run-down of some of our favourite morning and golden hour walks.
Enjoy!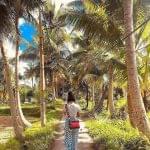 1. Sabuk Juwuk Manis (also known as Kajeng Rice Fields)
We may be biased, but this has to be one of our favourites. This walk is right on 11 on Kajeng's doorstep. Jalan Kajeng is a peaceful, artistic lane that leads you away from Ubud Palace and towards the breathtaking views of Juwuk Manis Rice Fields. Whilst just a matter of minutes away from the hustle and bustle, you'll find unparalleled solitude.  
What do we like about it? This walk is a hidden gem. The rice fields are stunning, and all the locals are so friendly as you make your way down the path and through the fields.
Sit down, relax, and take in the view in one of the many cafes and restaurants. We like to stop by at the Sweet Orang Warung for a cold juice or fresh coconut water or we head to Luxe Grill for a delicious bite to eat.
Walking/ Hiking Level: Easy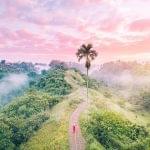 2. Campuhan Ridge Walk 
This is a very popular walk and probably the most instagrammable walk in Ubud. The ridge is in central Ubud and a very short stroll from 11 on Kajeng. You can reach Campuhan Ridge from the main road – Jalan Raya. The best time to walk here would be early morning to catch the sunrise or late afternoon to catch the sunset.
What do we like about it? If you plan to cross the bridge, we recommend stopping by and taking in the breathtaking views from one of the many cafes. We enjoy sitting and drinking a cold drink at Karsa Kafe. If you have time for a treatment, do check out Karsa spa, widely renowned as one of the best in town.
Walking/ Hiking Level: Easy to Medium (the duration of the walk is about 30 mins each way.)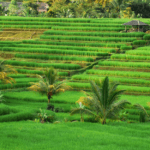 3. Jalan Subak Sok Wayah Walk (Sari Organik Walk)
This is another centrally located walk in Ubud. This walk runs parallel to the Campuhan Ridge Walk and is equally stunning. You can escape the crowds on this walk but be mindful that there will be bikes and scooters accessible on this path. 
What do we like about it? This is a picturesque walk as you move further down the trail you are surrounded by the idyllic rice fields and the path gets narrower. It's very tranquil and calm and the walk is very relaxing as the path is flat. 
Walking/ Hiking Level: Easy (the duration of the walk is about 30 mins each way.)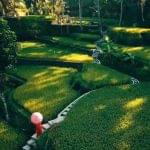 4. Tegallalang Rice Terrace
Take in the stunning panoramic views of the iconic Tegallalang Rice Terrace. Located just outside of Ubud, the short drive from 11 on Kajeng is sublime. This has to be one of the most famous rice terraces and a must-see when visiting Ubud. It is cited as a UNESCO World Heritage Site. There is a small fee to enter (IDR 15K/ USD $1) and is open 7 days a week from 7 am to 6 pm. 
What do we like about it? We love walking through and looking out to the emerald-green fields which are worked by local rice farmers. We would recommend visiting either in the morning or the late afternoon to miss the daytime heat and ideally in the dry months from early March to November when the paddies are about to harvest. This place is absolutely stunning! 
Walking/ Hiking Level: Easy to Moderate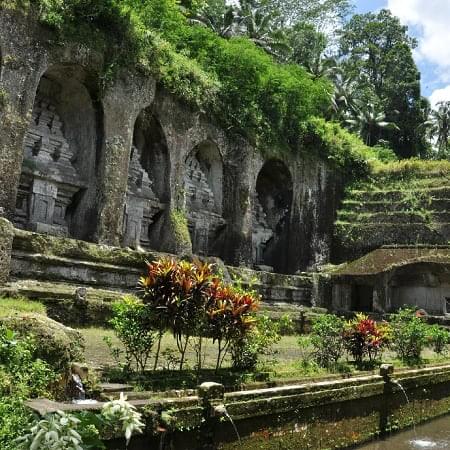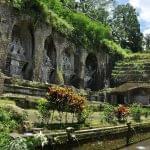 5. Keliki Village Walk 
This walk is off the beaten tracks. This walk is in the ancient Balinese village, follow the coconut-lined trees and meander through the rice fields.
What do we like about it? The local farmers and artisans will be eager to show you their crafts and you may even see how the locals produce palm wine.
Walking/Hiking level: Moderate (when it rains the path can be slippery and uneven)